Tomorrow is Election Day 2016, and whether we're ready or not it's finally here. Everything has come down to this final day and while we figuratively (please not literally) hold our breath, it's a good idea to plan out how to survive the day. Do you have an election day survival plan? If not, fear not, for I have a few suggestions!
IF YOU'RE VOTING
If you've waited until Election Day to vote, wands up to you. No, seriously, I salute you because it is going to be b-a-n-a-n-a-s. Have a plan before, during, and after you vote in order to keep your sanity. 
BEFORE YOU GO: Go to the site Our Vote and it will help you find your polling place, or call 1-866-OUR-VOTE for help.
Make you know where you have to go vote

. While there are a lot of different places you can go for early voting, there is typically ONE polling place you can go to on election day to have your vote counted — and what happens if you go to the wrong place varies from state to state. Make sure before you step out the door you have double checked where you're going, and how to get there. Even if you voted in the primaries, it may have changed.

Make sure you have what you need to vote

. It can differ from county to county, so make sure you have everything that you need not only to get in the front door of the polling place, but also to get your ballot in your hand.

Make sure you know what you can and cannot have with you in the polling place and/or booth

. This also can differ greatly from county to county, so double-check. Some will not allow you to bring your phone inside.  Some will let you have written materials such as information from The League of Women Voters to assist you in understanding what exactly the referendums on the ballot mean, while others allow no papers at all.

Make sure you know what time your polling place closes

. It would be heartbreaking to be rushing to get to the polling place just as it closes and not be able to cast your vote.  Also know what the policies are for people in line near closing time.

Make sure you know your employer's policy regarding voting.

  Depending on your working hours, you might need to vote before work, or during a break.  If you encounter a line, your arrival or return might be delayed, so make arrangements in advance if you can.
If you're not sure you can go to http://www.866ourvote.org/state or call your local library for information.
WHILE YOU'RE VOTING:
Breathe

. It's going to take a while and the lines are going to be long. But it will be worth it to cast your vote.

Don't get discouraged

. No matter what happens or who you're surrounded by in line, keep your chin up.  Your vote is your private business and nobody else's.

Take your time

. Once you get your ballot, make sure that you take the time to read the instructions and that you understand exactly how your voting system works. Each place is different- yours may be electronic, scantron, or any of a variety of other mechanisms. Make sure you read everything through before starting to vote so that you don't have any mistakes.  Ask questions if there is something you don't understand.

Silence your phone

. Don't take a picture, don't text, don't call, don't surf the web.  No matter how urgent it may seem or how much you want to take a picture with your ballot, it is illegal in a variety of states even to have your phone inside the polling place, let alone in the voting booth with you.  Photos, in particular, can get you in trouble, so it might be best to leave your phone in a secure location before you enter the polling place.
Make sure everything is complete. Double check everything down to the last box, even if you're undecided on any of them, before you complete your ballot or hand it in to be counted.
AFTER YOU'RE DONE VOTING:
Breathe.

You've cast your vote and you've done everything you can possibly do for this election. It's time to breathe and let a little of the stress out.

Take that photo.

 Once you're well away from the polling place (some areas prohibit photos within a certain distance), take your photo with your I've Voted sticker and launch it out into social media or announce it to the world.

Which road will you take

? Choose your adventure below or make up your own to finish out your Election Tuesday!
IF YOU'VE ALREADY VOTED
If you've already voted, congrats! You've done your part in the election- now comes the nail-biting. But what to do while we wait for the results to come in?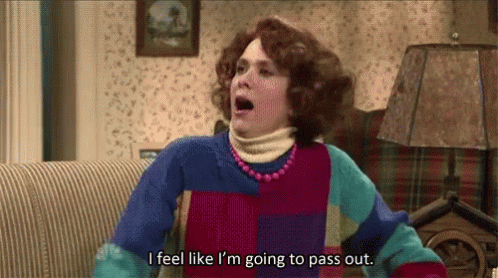 Party

: Invite a friend (or more than one) over and hold an election sleepover. Have everyone bring work clothes and necessities for the next day (or call in if they haven't already) as results for the different time zones screw with everyone's bedtimes and I doubt anyone will get any sleep until it's been "declared", if then. Call in food or make it a pot luck, or forget normal food and just have your favorite stress foods.
Tune out: If you can stand it, turn everything OFF and tune out for the evening. Do your favorite non-media related activities and don't turn ANYTHING on- no radio, no TV, no movies, no streaming anything because as soon as you do you'll be tempted to just switch over to see how things are going, or you'll get an update and then you'll be sucked back in
Indulge: If you're going to watch the updates, then do it right. Get your favorite indulgences and emergency stress snacks stocked up in the pantry, fridge and freezer (I'm partial to Brownie Batter Ben & Jerry's Ice Cream, among other things) and pace yourself through the night. Just remember that if you haven't called in a mental health day already for Wednesday, it's probably too late night so set your alarm for when you need to get up for work.
Get Out: If you can't stand to watch things unfold, then get out and do something. Take in a movie, take a new exercise class, find a play or a concert, go to a local event, but do something to get out of the house until as late as you feel comfortable. You can always set up alerts through your favorite media service to let you know how things start to unfold or when someone is predicted to have hit the magical 270/271 electoral votes.
Mixed Bag: Do what I'm doing and do a combination of the above.
And no matter what happens, remember that you used your voice to make a difference.
Any other suggestions? Please feel free to share!