One of the most anticipated movies to hit next year, Captain America: Civil War is going to be the Free Comic Book Day Weekend Release and set up the massive split of the Marvel Universe. For a long while everyone's been debating what characters were going to come into play, and thanks to Jeremy Renner, we now know!
Released from his Twitter account, Jeremy Renner published concept art for the new movie showing the cast and who's on which side. The geek in me cannot wait for May, although Mockingjay and the Star Wars is helping me bide my time.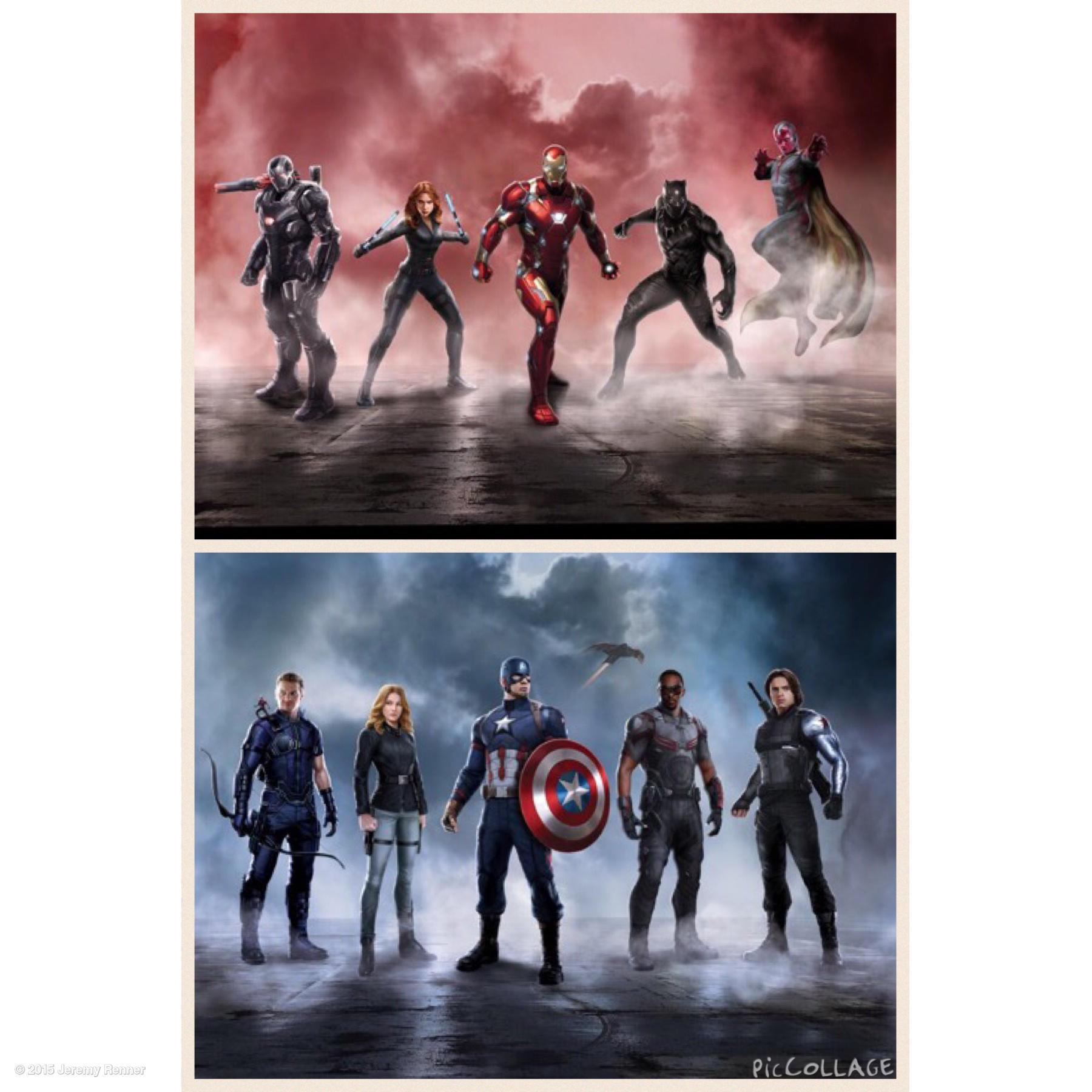 PLOT
If you don't know the backstory, between the end of Avengers: Age of Ultron and Captain America: Civil War, the world has gone increasingly worried over the presence of those with superpowers, and the havok that they wreck in the world- battles with aliens, battles between themselves, and what they are doing with their powers when not in the public eye. Eventually, the US government passes the Superhero Registration Act, where everyone designated with a "superpower" or designated as a "superhero" must be registered with the government. This story arc starts in the movie realm with Iron Man 2 and the attempt to bring Tony and the suit into government control, gets more pronounced at the end of The Avengers with the destruction of New York, and a full undercurrent in Avengers: Age of Ultron after the Hulk's rampage and the destruction of Sokovia.  Everything will be fully explained in the movie, but in the meantime, check out the comic books.
CAST OF CHARACTERS
Tony is on the side of all superheros being registered (watch the Iron Man and Avengers films in order to see his character evolve from government stay out of my life to we need to be watched somehow) and from the concept art he pulls in at the beginning of the movie War Machine (never in doubt), Black Widow, Vision, and Black Panther. I am totally over the moon for Black Panther to be in this, and if he's not, there will be much screaming. I'm one of the ones who think he should have been introduced long before this, timeline or no huge Marvel timeline. I think the shakiness of Black Widow in Age of Ultron leads up to her being pulled onto Tony's side (the flashbacks of her training in the red room, the loss of her relationship with Banner), although there could be some sneakiness in there as well- you never know.
Steve is on the side of no one being registered (watch the Captain America and Avengers films in order to see his character evolve from all American hero to distrusting citizen), and his side actually holds more surprises. We see Hawkeye in new armor (yea) and with Ant-Man on his shoulder, and has every geek begging the movie effect gods for this:
Meanwhile, Scarlet Witch is back, with Falcon and his drone from the comics, Bucky with his head on straight, and a new person. She hasn't been formally introduced in the cannon, but go back to Captain America: Winter Solder. Remember the "nurse" named Kate next door, who turned out to be a S.H.I.E.L.D. agent?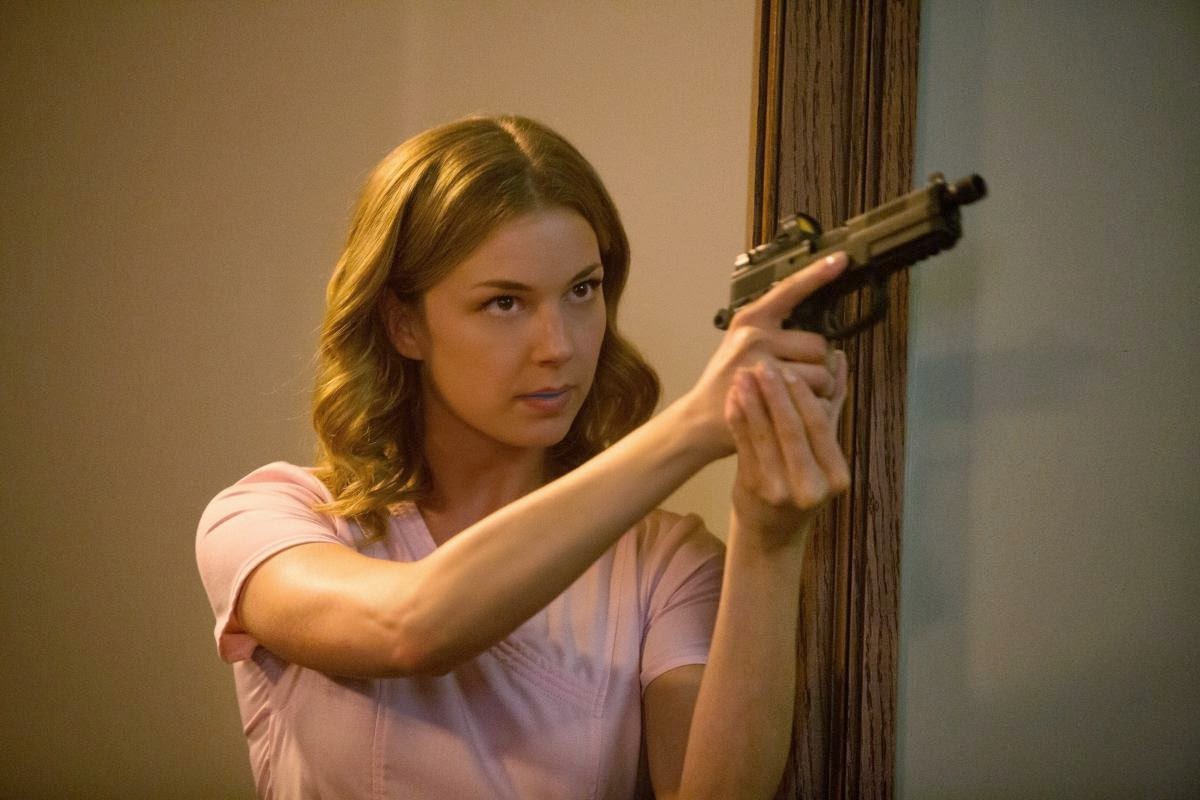 Turns out that she's Sharon Carter, Peggy Carter's niece, and she's left the CIA at some point and joined up with Steve. Since the CIA is one of the cornerstones in putting together the Registration Act, it may be that she leaves at a critical turning point.
SECRET VILLAINS
What HASN'T been touched upon yet anywhere in the concept art are the Villains in the movie and what they mean. According to IMDB.com, Baron Zemo, Crossbones, and General Ross are all in the movie in some way.
With Black Panther being a major part, Crossbones (formerly Rumlow from Age of Ultron) coming in makes narrative sense. We haven't been introduced to T'Challa, and there has to be a way of bringing the character into present day. He will play a huge part of bringing T'Challa into the mix- after all, the smuggler was the one who breached Wakanda.
Baron Zemo is an old enemy of Captain America, and in keeping with a barony, it's a title that has been given in the comics to father and son. In the comics one version has him outing the fact that Bucky killed Tony's parents, which we learned in Captain America: Winter Soldier. If the writers have Zemo do the same in the movie, then Bucky can one cause for the huge rift between Tony and Steve, and have their loyalties divided- should Bucky be responsible for crimes he committed while under the brainwashing of H.Y.D.R.A.? This could be part of the animosity that was hinted about in the teasers released with Ant-Man.
Then there's General Thaddeus "Thunderbolt" Ross. Last seen in The Incredible Hulk (2008), he is Betty Ross' father, and the one who's completely against Bruce Banner ever being allowed to live. Always a villain, the ONLY reason he can appear in a movie is to herald an appearance by Bruce/Hulk- so there's a teaser in there somewhere, even if Mark Ruffalo isn't credited yet. Last we saw, Hulk jettisoned himself out of the plane towards remote mountainsides, so it could be as simple as General Ross being sent to track him and bring him back. Uh-huh.
There's also a huge question mark with Martin Freeman. He's cast in Captain America: Civil War, and like the writers did with Matt Smith and Terminator:Genisys and Marvel did with Kim Soo-Hyun and Age of Ultron, there is no character listing for who he's playing at this time. He's been dropping hints as to who it is, but if this article is correct, I hope they expand him into a bigger character than Kim Soo-Hyun got.