I love Free Comic Book Day! The first Saturday in May (so this year May 7), comic book stores around the country have purchased specially created comics and give them away to comic lovers of all ages. They have special events, have parties, and celebrate the love of reading of comics. Libraries get into the fun as well, often purchasing comics from the stores and cross-advertising the stores and events, as we all have the same purpose: sharing a love of reading. This year marks the 15th anniversary of Free Comic Book Day, and with the release of Captain America: Civil War that weekend, it's going to be bigger and better than ever.
I love celebrating Free Comic Book Day at libraries. It makes a wonderful partnership with my local comic book stores because I purchase comics from them and gives them a boost in business, along with recognition and name-dropping with our patrons. They in turn are more than willing to put up flyers in their stores every so often for our teen programs, and often times they'll give us discounts on normal comic and graphic novel purchases for the library, as well as donations for prizes, programs, and tournaments. Since we've been partnering with our local comic shop, they've seen an uptick in business and an influx of tweens and teens whom they hadn't seen before, which is wonderful for their business.
Being a comic book nerd, I tend to do a whole day celebration for Free Comic Book Day. I run a comic book based marathon, set up comic book based games, and every few hours rotate out themed crafts. Last year they released The Avengers: Age of Ultron, so I ran a Marvel Movie marathon all day in chronological order: Captain America: The First Avenger, Iron Man, The Incredible Hulk, Thor, Iron Man, and Guardians of the Galaxy. This year, being Civil War, I'd probably run all three Iron Man movies, Captain America and Captain America: Winter Soldier. I love giving my tweens and teens that basis and also having that discussion going on in the background.
One of the things I love is using old comic pages with crafts. These are some of my favorites:
Over on Modge Podge Rocks, they've pulled together a terrific DIY on how to do a superhero canvas with comic book pages and colorful letters. I've used leftover pages from library subscription comics that have died (I keep a box in my office all year long for crafts), and I'm always getting extra comics from the comic store as well. Now, they use wooden letters, but I've used foam letters and vinyl letters cut out by our die cut machine and they've worked really well. Definitely have an example made ahead of time for your tweens and teens, and have a list of words as examples for them to use as well. I've found that while I know the buzz words, teens aren't as familiar.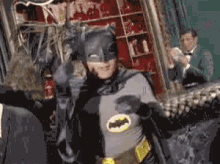 An inverse of this that I've done is to take a blank canvas and then cut out a superhero's icon or symbol out of a few layers of card stock or something harder. Take comics that are specifically related to that character, and glue them to the icon shape. Once dry, mount it on the white canvas (or even just a white or contrasting color of card stock or other material). The effect is similar to these wonderful works of art on sale at the esty shop of spottedflats:
Over on Crafts by Amanda she has an awesome tutorial on how to do comic book magnets. Hers turn out really glossy and clear, and they are really neat. I've done magnets, and I've done bottle caps, and both are just loved by tweens and teens. The basics come down to comic book images and the shapes- you can actually turn them into buttons if you want.
Adding to my ever-growing knowledge of wallet creating, over on Instructables they have an extremely easy-to-follow 8-step instruction on how to make a wallet out of comic book pages using tape and scissors. I think I could have days of just making wallets out of various media and my tweens and teens would be happy, so a day devoted to making wallets out of comic book pages would be heaven for some. Add in some comic book themed duct tape, and they'd be perfectly happy creating the entire day.
What do you have planned for Free Comic Book Day? What comic based crafts do you do?